THE GEORGE NOORY TALENT LUNCHEON & GET TOGETHER
NOORY LUNCHEON
SATURDAY MAY 30
12:30PM-2:30PM
Mountain View Room
• Price Single Tickets: $65
• Price Couple Tickets: $122
Weekend Pass Required to Attend
Can you carry a tune?
Come join us at the George Noory Talent Luncheon & Get Together and sing us your favorite song!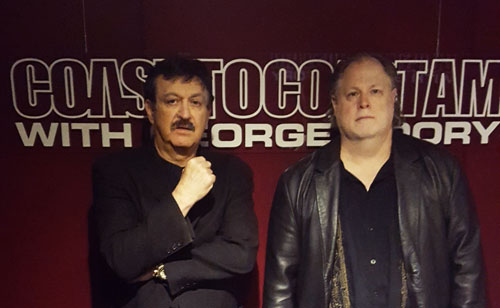 Join George Noory & Producer Tom Danheiser of Coast To Coast AM for this unique and fun luncheon . We will be selecting individuals to showcase themselves and sing their favorite song to the lunch crowd.
Please email us at media@contactinthedesert.com if you are coming to the luncheon and would like to sing a song to the luncheon attendees. If you don't have your ticket but want to sing…then what are you waiting for? Here's your chance to let everyone hear your voice. This event will sell out quickly so get your ticket and enter to sing NOW!
Join Coast to Coast AM host George Noory & Friends for an exclusive luncheon with Contact in the Desert attendees! This 7th annual Luncheon is a fun-filled event with live music and prizes, and George will even sing a few songs and you may be asked to join him for a sing-along! Coast to Coast AM producer Tom Danheiser will be polling the audience to choose a few special attendees to help! This is a thrilling opportunity to meet George up-close and learn more about the man behind the voice. You may even be called upon to say a few words! Be there Saturday, May 30, 2020, in the Mountain View Room for this once-in-a-generation event!
Since 2003, George Noory has been the host of one of the most widely-syndicated subject-specific radio programs of our time. Coast to Coast AM has set the standard for captivating and thrilling mysteries across the world and beyond!
We hope you can join us for one of Contact in the Desert's most highly anticipated moments. This Luncheon sold out last year, so RSVP soon to secure your ticket.
Join us for this incredible moment with George Noory.
Warm Bread Sticks
APPETIZER
Tropical Caesar Salad with Romaine, Avocado, Mango
ENTRÉE (choice of)
Feta & Spinach Crusted Chicken with Smoked Cheese Polenta & Garden Vegetables
or
Mushroom & Vegetable Wellington with Rice Pilaf and Yellow Pepper Coulis
DESSERT:
Citrus Carrot Cake
BEVERAGES:
Iced Tea
Coffee and Hot Tea