Greg Bishop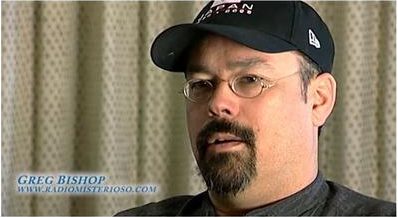 In 1991, Greg co-founded a magazine called
The Excluded Middle
, which was a journal of UFOs, the paranormal, conspiracy, psychedelia and new science. His first book,
Wake Up Down There!
anthologized many of the articles and features.  Greg's second book was
Project Beta,
which documented a government campaign of disinfo perpetrated against an unsuspecting UFO researcher. His third book,
Weird California
, was released in 2006. He also wrote for the famed UFO/paranormal site Ufomystic.
It Defies Language!
released in 2016, is a collection of essays on UFOs, the government, and fringe issues and personalities. His show
Radio Misterioso
, (
radiomisterioso.com
) now in its 19
th
year, features interviews with leading-edge scientists, academics, and noted researchers of UAP and the paranormal. Greg has spoken to numerous groups, universities, and at public and private symposia and conventions, mainly on the UFO subject. He also flies paragliders and is a licensed private pilot, as well as a FAA-approved aerial drone photographer.
Our 2020 Speakers
Please Note: A full weekend pass purchase is required in order to purchase workshops and intensives.