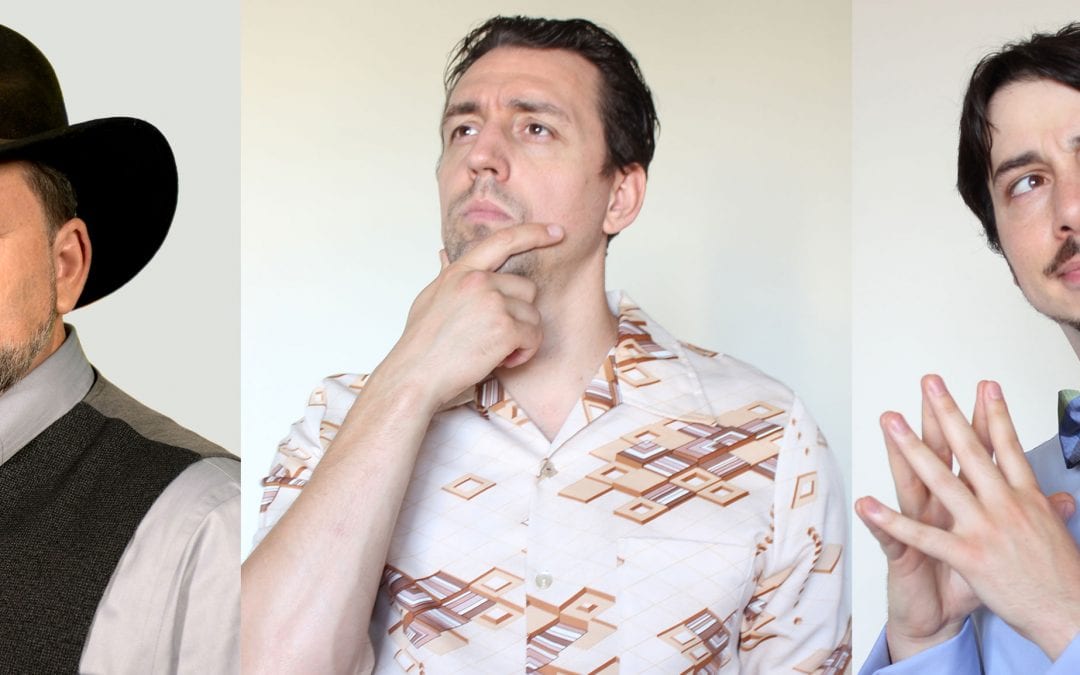 FASCINATING GADETS, GIZMOS, AND GEAR-BASED TECHNOLOGIES: EXPLAINING THE SCIENCE BEHIND ALIEN TECHNOLOGIES FOUND IN YOUR FAVORITE MOVIES AND TELEVISION SHOWS
with
Sunday, June 2, 2019
2:00pm-4:00pm
Location: Enterprise Room
Michael Dennin & the Brain Trust
The FGGGbT podcast features "Physics Phenom" Dr. Michael Dennin, "Enigmatic Engineer" Ben Siepser, and "Analytical Mastermind" Daniel J. Glenn will bring pop culture technology to a reality.
They'll be discussing your favorite sci-fi effects from warp drives, blasters, terraforming, tractor beams, to pod people. The second hour will include alien technology found in abduction cases including: bloodless medical procedures, advanced propulsion systems, telepathy, and the "lost time" phenomenon. Come listen as The Brain Trust explains all this and more.
Michael Dennin
Professor Dennin has been Professor of Physics and Astronomy at UCI since 1997, and is now the Vice Provost for Teaching and Learning and Dean, Division of Undergraduate Education. His research focuses on the dynamics of foams and modeling of ice mélange in fjords. He is passionate about public outreach in the area of science – appearing on numerous television programs. You can find Prof. Dennin in the YouTube series Fascinating Fights http://bit.ly/1GDKVex) debating the outcome of battles between pop icons. In addition, Prof. Dennin is serves as an expert on the podcast Fascinating Gadgets, Gizmos, and Gear-Based Technologies where he explains how to make fictional technology a reality. Recently, he published a science outreach book on the intersection between science and faith: Divine Science: Finding Reason at the Heart of Faith, from Franciscan Media.
Facebook Page: https://www.facebook.com/profDenninMichael
Twitter: @DenninMichael
Fascinating Fights: all two seasons at http://www.fascinatingfights.com/
Be sure to pick up a copy of his latest book, Divine Science: Finding Reason at the Heart of Faith
Daniel J. Glenn
Daniel J. Glenn is an independent digital producer and podcast host. He has created several shows that exist at the intersection of pop culture and science including the podcast Fascinating Gadgets, Gizmos, and Gear-Based Technologies (FGGGbT). FGGGbT takes a look at technology that exists in popular culture, such as TV and movies, then teaches you how they would work in real life.
Mr. Glenn also hosts an interview style podcast entitled "Fascinating Nouns" and has interviewed several Contact in the Desert alumni, including Linda Moulton Howe, David Childress, Peter Levenda, Stanton Friedman, and Erich Von Daniken.
Ben Siepser
Ben Siepser is an electrical and computer engineer specializing in digital design. His designs have flown on nearly 70 different missions to space. However he has now turned his sights inward to the human mind, and is working on devices to unlock the secrets of the brain. Ben is a huge science fiction fan, he grew up watching numerous space shows and movies as well as reading many space books. Currently he cannot wait for Season 4 of The Expanse.
INCLUDED WITH PASS